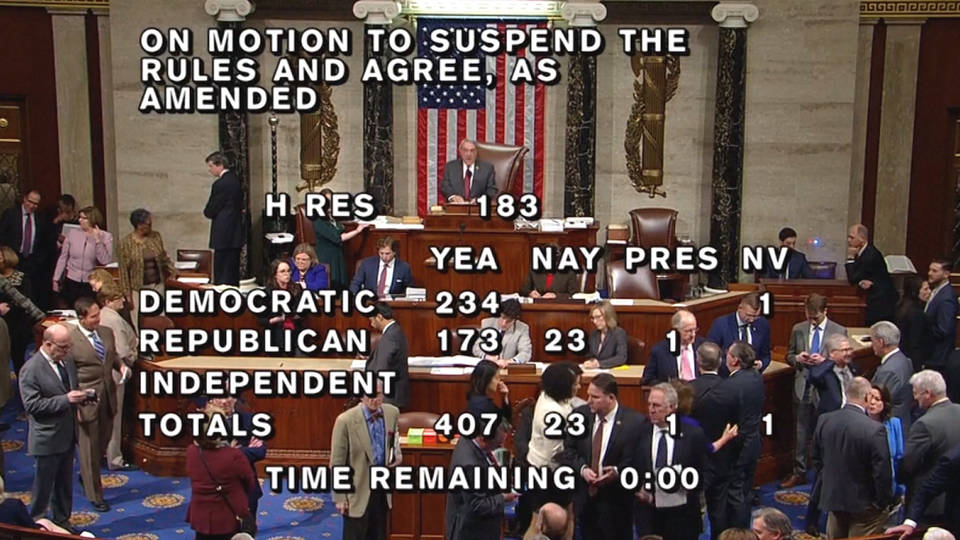 So instead of pointing a finger of guilt at the real racist, Ms. Omar, the Democrat legislation branded all American white males as being bad persons and left the real anti-Semitic, racist free of any charge.
"I don't think our colleague is anti-Semitic", Pelosi said Friday, reiterating her previous defenses of Omar.
The resolution was originally meant to deliver a direct rebuke of anti-Semitism following comments by a Muslim Democratic congresswoman, Ilhan Omar, that were deemed anti-Semitic and offensive by many colleagues.
The HBO star had an apparent change of mind after House Democrats struggled to condemn Omar in a resolution that was broadened to include multiple forms of hate.
It was the Democratic leader's latest attempt to quell tension that erupted earlier this month when Omar said she wanted to start a discussion about "allegiance to a foreign country" in reference to Israel.
Criticism didn't just come from the GOP, but from some of Omar's fellow Democrats.
The debate made clear that Democrats' growing diversity in Congress - in ethnicity, religion, gender, age and ideology - has created new challenges for the party.
She continued: "Our nation is having a hard conversation and we believe this is great progress".
And as far as worldwide relations goes, Ms. Omar is in the finest of company, because one hears reports of French Jews immigrating to Israel in increasing numbers because of anti-Jewish sentiment and a disturbing number of attacks on Jews in the stylish and trend-setting nation of France.
In a press conference Thursday, House Speaker Nancy Pelosi (D-CA) refused to call on Omar to apologize, claiming the Minnesota Democrat was unaware her that her antisemitic remark would be interpreted as such.
"I want to talk about the political influence in this country that says it is OK for people to push for allegiance to a foreign country", she told a Washington audience, before tweeting that she should not have to "have allegiance/pledge support to a foreign country" in order to serve in Congress. The Anti-Defamation League reported a 58 per cent increase in such incidents between 2016 and 2017.
"Let's be honest, we are here today because of rhetoric said by one member or this chamber, again and again and again", said Rep.
US President Donald Trump at the White House.
"Friends, our supporters, you know the Women's March we're going through some rough times and if you know anything about this past week, I'm going to give you some ideas of what we did this week".