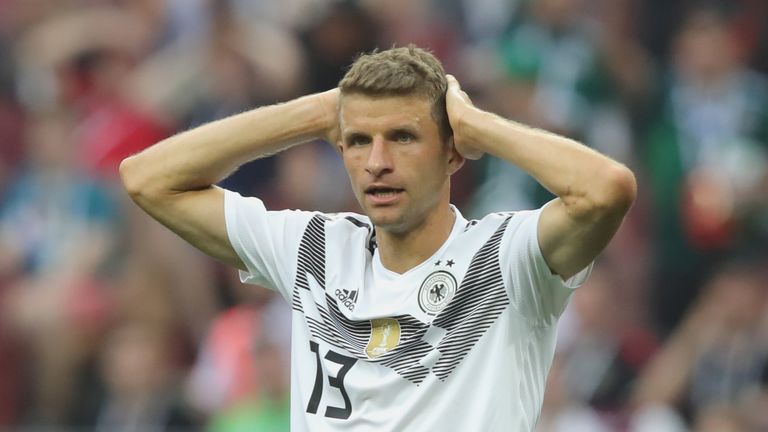 Germany coach Joachim Loew is not planning to call up world champions Jerome Boateng, Mats Hummels and Thomas Mueller any longer, saying the team needs to look to the future.
"I thank Mats, Jerome and Thomas for the many successful, extraordinary and unique years we shared but in the national team it is now all about laying the foundations for the future".
Loew flew to Munich on Tuesday to tell Mueller, 29, Boateng and Hummels, both 30, who have 246 appearances for Germany between them, that their worldwide careers are over.
Boateng was one of the key figures in Germany's successful World Cup campaign in Brazil five years ago, starting the final at centre-back alongside Hummels.
Low said Muller, 29, along with Jerome Boateng and Mats Hummels, both 30, will not be part of a "new start for the German national team" in 2019.
Bayern Munich took a swipe at Germany coach Joachim Low on Wednesday for the manner and timing of his move to prematurely end the worldwide careers of three of the club's players.
"2019 is the year of a new start for the German national football team", said Loew.
'I am convinced that this is the right step.
'I have no understanding for the suggested definitiveness of this decision. "Mats, Jerome and I are still in a position to play football at the highest level".
"It was important to me personally to explain my thoughts and plans to the players and managers of FC Bayern", added Loew, who flew to Munich to speak to the trio.
"However, we believe the timing and circumstances of the announcement of this decision to the players and to the public for questionable".
Jerome Boateng says he is sad that Germany coach Joachim Low has axed him from the worldwide set-up, and insists he can still play at the highest level. "You have to take responsibility now".
Bayern chief Karl-Heinz Rummenigge said he was "irritated" by the timing of Low's announcement.
"I was young myself and reliant on older players to make room for me".
'I was always extremely proud to wear the national team top and I will never forget the summer of 2014.
With a year to go before the European championships, Loew feels now is the time to remove more of his old guard having already last year dropped Sami Khedira, another 2014 World Cup victor. "But I would have obviously wished for a different departure".