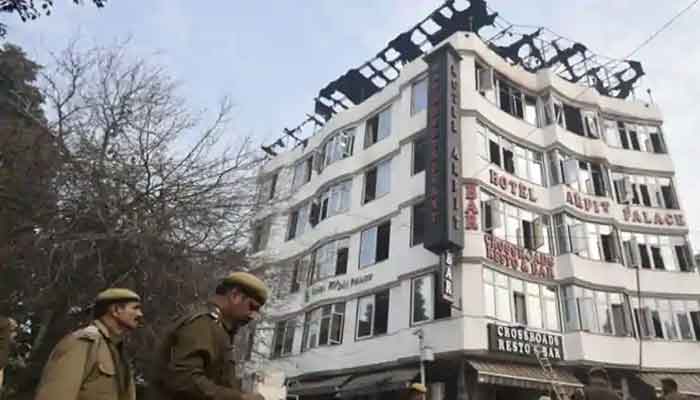 The minister, who visited the site of the tragedy in central Delhi's Karol Bagh locality, said he was sure that there would be a violation of norms.
A woman and a child also died in the blaze.
The police said that out of 17 people killed, 15 have been identified.
In the wake of the deadly incident, Delhi Deputy Chief Minister Manish Sisodia has ordered the cancellation of today evening's celebrations in connection with the completion of four years of the Aam Aadmi government.
The injured were rushed to three hospitals including the Ram Manohar Lohia Hospital (RML).
Authorities said an electrical short circuit may have started the fire, but added an investigation has just started to look into possible causes.
As thick smoke and flames rose from the top floor of Arpit Palace Hotel in Karol Bagh, two died when they jumped off the building in a desperate attempt to save themselves.
Fires are common across India because of poor safety standards and lax enforcement of regulations. Most of the deaths took place due to suffocation, the police said.
Guests at the hotel, popular with budget and business travellers, were unable to use corridors to escape because of wooden panelling, according to a fire officer. He further said that a license is issued to a hotel only after inspection. "Mishaps can occur in a house as well", he said.
The fire-fighting operation carried by more than 100 personnel of Delhi's fire department lasted around four hours.
Scores of patients and staff at Noida's Metro Hospital and Heart Institute had to be evacuated after a major fire.
On 7 February, a fire broke out in Metro Hospitals and Heart Institute in Noida, trapping several people inside the multi-storeyed building. No casualty was reported.