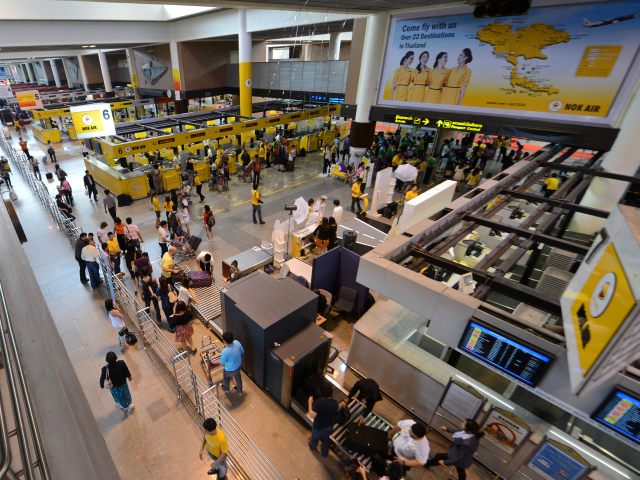 The head of Thailand's immigration police said Monday that a young Saudi woman who was stopped in Bangkok as she was trying to travel to Australia to escape alleged abuse by her family will not be sent anywhere against her wishes.
Rahaf Mohammed al-Qunun arrived at Bangkok's main airport on a flight from Kuwait after running away from her family, who she alleges subjected her to physical and psychological abuse.
Earlier in the day, Hakparn said Alqunun's father would arrive tonight, and that officials would see if the young woman was willing to depart with him.
Thai immigration officials had initially said she should return to Kuwait.
The Saudi woman told human rights groups and the media that she was stopped at Bangkok airport in transit from Kuwait and had her passport taken from her.
Alqunun posted another video of a self-made barricade behind her hotel room door demanding asylum from the UN.
Ms Alqunun told a Thai human rights worker her family kept her in her room for six months because she cut her hair.
The agency "will take five days to consider her status" and another five days to arrange for travel, Surachate said, adding that he would meet with Saudi diplomats on Tuesday to explain Thailand's decision.
"The claims made by Ms Alqunun that she may be harmed if returned to Saudi Arabia are deeply concerning", a Department of Foreign Affairs spokesman said.
"We are very grateful that the Thai authorities did not send back (Qunun) against her will and are extending protection to her", said the UNHCR's Thailand representative Giuseppe de Vincentiis.
"The UNHCR and I will. listen to what she wants, whether or not she wants to receive asylum to which country, and we will help coordinate".
"I'm afraid, my family WILL kill me".
"When I landed at the airport, someone came and said he would process the (Thai) visa but he took my passport".
Al-Qunun's case sparked headlines around the world following a global social media campaign by her supporters and human rights advocates, urging Thai authorities not to deport her back to her family, who were in Kuwait. Rahaf claimed to have a visa for Australia and planned to apply for asylum, according to the Associated Press.
Thai authorities say they will not facilitate her forced deportation.
Al-Qunun sent through her account, which was followed by tens of thousands of human rights activists around the world, a call to the United Nations to grant her refugee status in any country for fear of being deported to Saudi Arabia. Rahaf could be sent back to Saudi Arabia within hours without our intervention.
"They will kill me", she said.
"They said "you have three minutes to pack, and you will be flown back to Kuwait tomorrow at 11.15am, then returned to Saudi Arabia", she told AAP.
Saudi Arabia's Charge d'Affaires in Bangkok, Abdullah al- Shuaibi has confirmed that a Saudi girl who was with her father in Kuwait has managed to flee to Bangkok.
Thai immigration chief Surachate Hakparn told reporters that Qunun's father and brother were due in Thailand later on Tuesday.
"They wanted me to pray and to wear a veil, and I didn't want to".
An airline security official reported seeing her dragged out of the airport with her mouth, hands, and feet bound with duct tape.