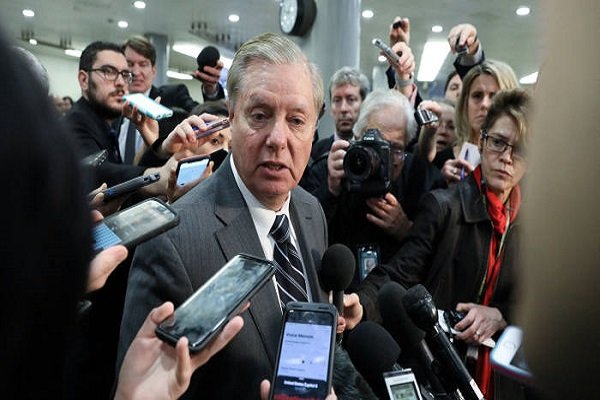 Two key US Republican senators said Tuesday after a briefing by the CIA's director they have "zero" doubt Saudi Arabia's crown prince directed the murder of the journalist Jamal Khashoggi.
Graham was convinced the administration was willfully ignoring the evidence linking Saudi Crown Prince Mohammad bin Salman with Khashoggi's death to avoid having to sever ties with the kingdom.
"There's not a smoking gun; there's a smoking saw", said Graham, referring to reports that Khashoggi's body was dismembered by a bone saw after he was killed at the Saudi Consulate in Istanbul.
Bin Salman has denied any knowledge of the plot to torture, murder and dismember Khashoggi at the Saudi Consulate in Turkey in October and the US has waffled on whether it believes his denials.
Graham says, "there's not a smoking gun".
Members of the Senate's Committee on Foreign Relations did not mince words after the briefing by CIA Director Gina Haspel on Tuesday.
He added: "We're looking for an appropriate response that doesn't completely fracture the relationship".
Trump has repeatedly said the evidence doesn't conclusively prove that bin Salman was involved in the assassination and suggested that he believes the prince's denials over the conclusions of the Central Intelligence Agency.
Speaking to reporters after the briefing, Graham explained, "I went into the brief believing that it was virtually impossible for an operation like this to be carried out without the crown prince's knowledge".
The Haspel briefing included leaders of the Senate Foreign Relations Committee, Armed Services Committee and Appropriations Committee.
During that hearing, Mattis and Secretary of State Mike Pompeo both parrotted the White House line that, as President Trump tweeted: "Maybe he did, maybe he didn't".
"I've read in the media that the Central Intelligence Agency has said with high confidence that the crown prince was involved with killing Khashoggi". "I'm not going to blow past this", he said. "We're with Saudi Arabia". Instead, he said, he would rally support for a different, broader effort against the kingdom - to cut off arms sales and military aid for the war in Yemen, and impose new sanctions on those responsible for the killing, including the crown prince. But it is not expected to deter Senate Democrats - or the handful of Republicans who say Saudi Arabia should be rebuked - from supporting the Yemen resolution beyond its next step, a vote expected to take place in the next few days.
Secretary of State Mike Pompeo and Defense Secretary Jim Mattis led the earlier briefing and tried to dissuade senators from punishing Saudi Arabia with a resolution to curtail USA backing for the Saudi-led war in Yemen.
Senator Graham is also introducing a separate resolution to officially blame the Saudi crown prince for Khashoggi's death.
"If our government knows that Saudi leaders were involved in the murder of a USA resident, why shouldn't the public know this?" Bob Corker (R-Tenn.) said.