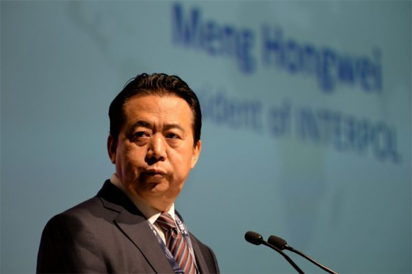 The agency said in a brief statement that "it looks forward to an official response from China's authorities to address concerns over the president's well-being".
Interpol asked China to clarify the status of the law enforcement group's president, amid press reports that he's been arrested in his home country.
Reports quoted an unnamed French judicial official as saying that Meng arrived in China at the end of September but there had been no news of him since.
Vice-Minister at China's Ministry of Public Security, Meng Hongwei is now under investigation in China, amidst the mystery surrounding his disappearance after his wife reported to the French police that he went missing.
The Hong Kong-based newspaper said the 64-year-old "was taken away for questioning by discipline authorities as soon as he landed in China last week".
Meng is also a vice minister for public safety in China. Calls and faxed questions to the foreign and public security ministries went unanswered.
Mr Meng likely dealt extensively with former security chief Zhou Yongkang, who is now serving a life sentence for corruption.
His appointment as Interpol president in 2016 alarmed some human rights organisations, fearful it would embolden China to strike out at dissidents and refugees overseas.
He lost his seat on the Communist Party Committee in China in April, South China Morning Post reported.
Diplomats say the role of Interpol president is largely ceremonial, with day-to-day work carried out by its secretary general, Juergen Stock, and his staff. The language of Interpol's Saturday statement seeking "clarification" from Chinese authorities gives further impetus to these reports.
Meng has a shiny curriculum vita, having held down various positions within China's security establishment, including as a vice minister of public security - the national police force - since 2004. "It is quite possible that Meng found himself on the wrong side of the political divide in China, at a time when President Xi Jinping is intensifying his crackdown on corruption".
Interpol, or the International Police Criminal Organization, facilitates international police cooperation.
The Central Commission for Discipline Inspection, the Communist Party's secretive internal investigation agency, had no announcements on its website about Meng and could not be reached for comment.
China now has 44 outstanding red notices, mostly related to murder, intentional injury and drug smuggling, according to Interpol's web site.
In the past, Beijing saw Mr Meng's election to Interpol as a chance to enlist more worldwide help in tracing alleged economic criminals, including corrupt officials.
Meng Hongwei was reported missing after traveling to China.
"It is freaky", Broadhurst said on Saturday, adding that China was likely to "brush off" any political damage that it would cause to Beijing's involvement in global bodies. His term in Lyon runs until 2020.