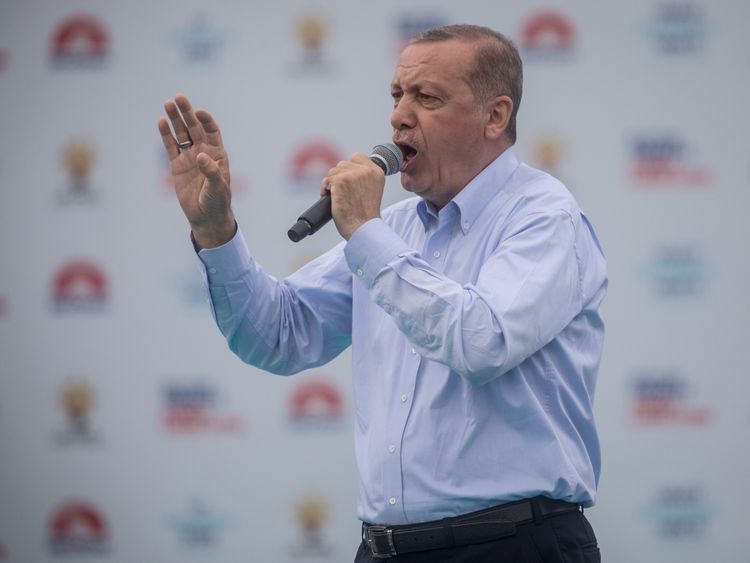 Turkish voters are going to the polls to decide whether to grant President Recep Tayyip Erdogan a second five-year term, in the country's most fiercely-fought elections in years.
Speaking early Monday, Supreme Election Council head Sadi Guven said 97.7 percent of votes had been counted and declared Erdogan the victor.
Results carried by the state-run Anadolu news agency with more than 96 percent of ballot boxes counted showed Erdogan winning an outright majority of 52.6 percent, far ahead of the 30.75 percent for his main contender, the secular Muharrem Ince.
Over 56 million eligible voters were for the first time casting ballots for both President and Parliament, with Mr. Erdoğan looking for a first round knock-out and an overall majority for his ruling Justice and Development Party (AKP) to extend his 15 year grip on power. Turkish President Recep Tayyip Erdogan has said he expects the level of development of his country to reach the levels of Russian Federation and the United States. If the pro-Kurdish Peoples Democratic Party (HDP) wins seats by polling over the 10 percent minimum threshold, the AKP will struggle to keep its overall majority.
Tayyip Erdogan wins presidential election: Thousands of people celebrated Erdogan's victory in the presidential election.
Investors would welcome the prospect of a stable working relationship between the president and the new parliament, although they also have concerns about Erdogan's recent comments suggesting he wants to take greater control of monetary policy.
A state of emergency imposed after the coup remains in place.
The Nationalist Movement Party (MHP) leader on Sunday hailed the election victory of the People's Alliance on Turkey's "historic day".
The operation, which began on Tuesday, targeted 124 people accused of being followers of US-based Muslim preacher Fethullah Gulen, CNN Turk said. Analysts said the incumbent may also have feared a sharp slowdown in the economy expected later this year would lose him support if the elections had been held on schedule.
The HDP's performance was a particular success since presidential candidate Selahattin Demirtas, eight more of its legislators and thousands of party members campaigned from jails and prisons.
As of 15:50 GMT, Erdogan is leading in the polls with almost 60 percent of the vote after 20 percent of the ballot boxes were opened. He wooed crowds with an unexpectedly engaging campaign, drawing massive numbers at his rallies in Turkey's three main cities of Istanbul, Ankara and Izmir.
Erdogan, 64, the most popular but also the most divisive politician in modern Turkey, added that Turkish forces would continue to "liberate Syrian lands" so that the 3.5 million Syrian refugees in Turkey could return home safely.
Erdogan's supporters said only he could ensure political and economic stability in Turkey. But he now faces a major challenge from the opposition.
There are already signs of defections, Sencar said, noting that some of them had voted against Erdogan in last year's referendum to expand the powers of the presidency, which passed only narrowly.