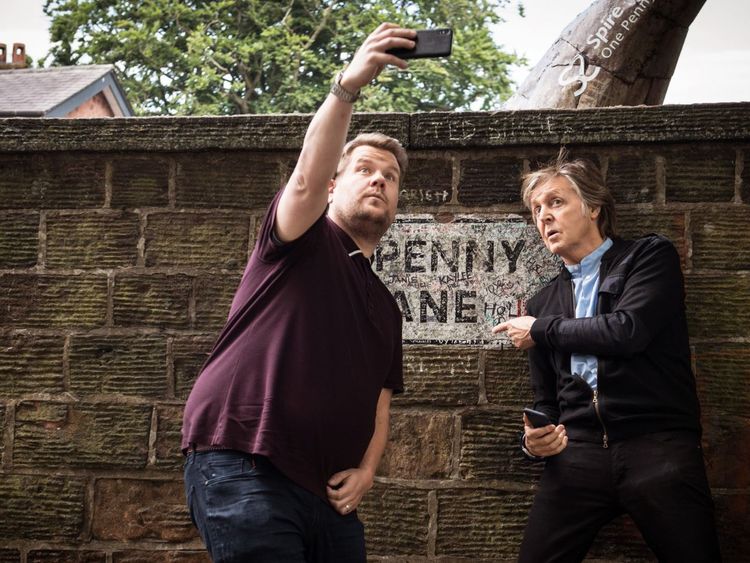 At the end, he performs a surprise gig to very lucky crowd in a Liverpool pub. "Yeah, I need somebody, not just anybody, please, please help me".
James Corden and Paul McCartney in 'Carpool Karaoke'. "It's weird how it can do that to you", McCartney said after they belted the 1970 ballad.
After teasing the first song he ever wrote, the rather catchy "I Lost My Little Girl", McCartney set course for a trip down memory lane - as well as the actual Penny Lane, which they completed with a rendition of "Penny Lane". McCartney then recalled the remarkable circumstances under which he penned the Beatles classic "Let It Be", the title track to their final album.
"Your music is so full of positivity and joy and a message of love and togetherness", Corden told the celebrated singer.
The rocker then explained to James how his mother used to give early Beatles admirers cups of tea, before greeting modern day fans outside his home. "And I remember them playing that".
As he led Corden through the home (even sitting down at the piano to sing "When I'm 64"), he told Corden how his father had critiqued "She Loves You", suggesting they replace the "yeah, yeah, yeahs" with "yes, yes, yes".
"If my granddad were here right now, he'd get an absolute kick out of this", Corden added, with tears still in his eyes.
In the 23-minute video posted on Thursday, we see McCartney singing some of his most famous Beatles songs like Penny Lane, Drive My Car, Let It Be and Blackbird.
The Drive My Car hitmaker also treated locals to an impromptu session in a city centre pub, which got rather emotional for Corden. This was the situation Foo Fighters frontman Dave Grohl found himself in recently during a party hosted at Sir Paul McCartney's house.